Very Good Recipes of Flour from Swapna's Cuisine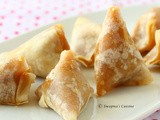 Kottayam Churuttu Recipe / Thin Flour Pastry Sheets Filled with Sweetened Rice Filling
By Swapna's Cuisine
Subscribe
06/22/12 23:48
Churuttu, is a famous Syrian Christian Palaharam / snack from Kottayam region of Kerala. These cones of syrupy avalose podi enclosed in wafer thin Mandaka / pastry are a favorite of everyone in Kottayam. Mammi cheduthi's churuttu is one of the palaharam...
Add to my recipe book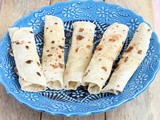 Maida Chapati / Indian Flat Bread with All-purpose Flour
By Swapna's Cuisine
Subscribe
03/21/12 19:15
Remember the post where Iwrote about our life in Gomia and our cook Alku? Well this Maida Chapati is alsosomething I learned from him.... The secret to making this soft maida chapati ismixing a little oil with maida at first before adding water.... This...
Add to my recipe book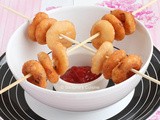 Ari Vada Recipe / Deep Fried Savory Rice flour Fritters
By Swapna's Cuisine
Subscribe
03/09/12 17:17
Mom used to make thissimple snack for us while we were kids… She used to make Savory Orotti (FlatRice Bread) too with the same recipe. While Ari Vada needs deep-frying, Orottiis made on a skillet. You have to adjust the amount of water according tothe rice...
Add to my recipe book