Very Good Recipes of Asian from Tales of a Garlic and Onion Lover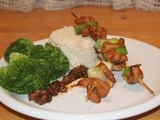 Asian-Style Honey Chicken Kebabs
By Tales of a Garlic and Onion Lover
03/25/12 19:22
This Asian chicken is not much different from stir frying chicken with soy sauce, but the honey and letting it marinade for hours gives it a stronger flavor. Using skewers also makes it look a lot more fancy :) For two portions (about five kebabs total)...
Add to my recipe book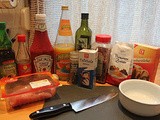 Sweet and Spicy Chicken (Asian Style)
By Tales of a Garlic and Onion Lover
01/18/12 11:53
We don't really have a name for this dish and it is hard to come up with one. Even the recipes we pieced together to make it do not help with the naming process. Most of them just call their sauces, "Asian Sauce." Very descriptive...we know. Sweet and spicy...
Add to my recipe book