Very Good Recipes of Spicy from Tales of a Garlic and Onion Lover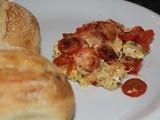 Spicy Scrambled Eggs
By Tales of a Garlic and Onion Lover
04/22/12 11:20
This recipe came from hisformer lecturer Javier Salas, CEO of web agency anders und sehr. It fits our love of spice and her need for American-type breakfasts with scrambled eggs. If you are not a big fan of spice, we recommend trying this recipe anyways...just...
Add to my recipe book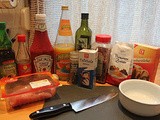 Sweet and Spicy Chicken (Asian Style)
By Tales of a Garlic and Onion Lover
01/18/12 11:53
We don't really have a name for this dish and it is hard to come up with one. Even the recipes we pieced together to make it do not help with the naming process. Most of them just call their sauces, "Asian Sauce." Very descriptive...we know. Sweet and spicy...
Add to my recipe book