Very Good Recipes of Cheesecake from The Backyard Baker
Marbled Lemon Cheesecake
By The Backyard Baker
01/24/13 12:49
Freshness for the fresh new beginnings !!!! Welcome 2013. My mother in law makes a Lemon Biscuit Pudding which KJ completely loves and has been wanting me to try it out for a while, however I've never gotten around making it. While blog hopping the other...
Add to my recipe book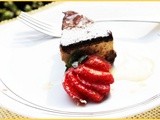 Irish Cream Cheesecake
By The Backyard Baker
04/26/12 20:45
"Coffee Solves Everything" - Anonymous Well almost and in all it's forms..... The Irish Cream Cheesecake is by far one of my favourite 'coffee desserts' which I finally attempted to try making and I was quite pleased...with myself and the dessert !! Irish...
Add to my recipe book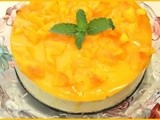 Mango Cheesecake…. The Ideal Summer Dessert
By The Backyard Baker
07/22/11 13:20
Well yes I'm kinda posting this rather late in the year but all the same..... It was April and the beginning of the 'Birthdays' in the our family. Summer has set in Delhi and by far the only thing to look forward to, are MANGOES !!!! Mangoes in all form.....I...
Add to my recipe book