Very Good Recipes of Soup from The Freshman Cook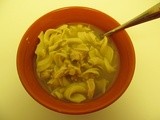 Souper Simple Soup
By The Freshman Cook
01/15/12 04:59
My husband loves soup. I, on the other hand, can take it or leave it. For me, it is usually too warm here to enjoy it. But, we have lived in cold climates in the past, and we both grew up in a cold climate, so maybe that's why when it's winter, or even...
Add to my recipe book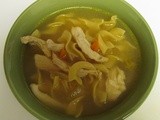 Crazy Cooking Challenge~Chicken Noodle Soup
By The Freshman Cook
01/07/12 18:00
Today for the Crazy Cooking Challenge we were asked to find a Chicken Noodle Soup recipe posted on the web from a fellow blogger. After we find the recipe, we are to make the recipe ourselves, and then post about it. This is so much fun! I spent a lot of...
Add to my recipe book