Very Good Recipes of Toasts from The Freshman Cook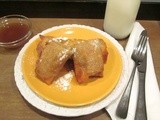 French Toast Egg Rolls
By The Freshman Cook
Subscribe
02/20/14 15:00
Today I am participating in the Improv Cooking Challenge, and this month our two essential ingredients are bread and butter. Oh, my goodness! I really went round and round with this one. I had several ideas, but nothing really clicked and said "that's the...
Add to my recipe book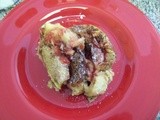 Club Baked~Baked French Toast
By The Freshman Cook
Subscribe
12/15/11 17:07
It is time again for another episode of Club Baked.!! Every 2 weeks everyone in Club Baked makes the featured recipe from the book, Baked Explorations written by Matt Lewis and Renato Poliafito. This is one great cookbook. I have liked every recipe we have...
Add to my recipe book