Very Good Recipes of Asian from The Galley Gourmet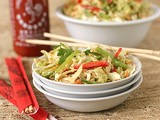 Asian Slaw
By The Galley Gourmet
09/07/13 20:56
As much as I love my Classic Creamy Coleslaw, it's nice to have some variations. Apple-Fennel Slaw, Tangy Apple-Cabbage Salad with Blue Cheese, and Creole Cabbage Salad pair well with different meal flavors. So when I am having a meal with an Asian flair,...
Add to my recipe book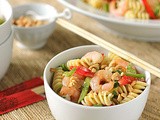 Asian Pasta Salad with Shrimp, Red Pepper, and Honey Roasted Peanuts
By The Galley Gourmet
05/31/12 14:29
It is just about time for picnics and summer potlucks. And when you have a picnic or summer potluck, there is a calling for a pasta salad of some sort. They are quick, relatively easy to prepare, and they feed a crowd. But the one thing I do not care for...
Add to my recipe book