Very Good Recipes of Pepper from The Galley Gourmet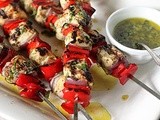 Grilled Chicken Kebabs with Red Peppers and Red Onion
By The Galley Gourmet
Subscribe
05/14/14 14:59
Last week I was finally able to uncover my grill and prepare it for the grilling season!! The weather was positively pleasant, so I grilled out on two nights. One night we enjoyed grilled strip steaks and the other night we enjoyed these kebabs. If you...
Add to my recipe book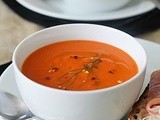 Roasted Red Pepper Soup
By The Galley Gourmet
Subscribe
01/22/14 15:36
I have noticed that there has been some common subject matter on various social media in the past week or so. One is either commenting about the weather (yes, we are back in the single digits-- #whydoilivehere #imdonewithwinter) or sharing that someone...
Add to my recipe book