Very Good Recipes of Salsa from The Galley Gourmet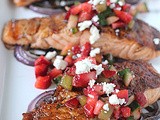 Grilled Salmon and Red Onion with Strawberry Salsa
By The Galley Gourmet
06/07/12 14:57
If you have been following my little space in the world, there are two things that you already know-- 1. I enjoy a sweet and savory combo and 2. I am always trying to find a way to get my family to eat fresh salmon. With berry season in full swing, why...
Add to my recipe book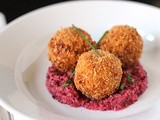 Turkey and Sweet Potato Croquettes with Cranberry Apple Salsa
By The Galley Gourmet
11/29/11 14:48
This dish may look fussy and fancy, but really it is some plain good eating. I wanted a unique way to use up some leftover turkey and an extra sweet potato that I had lying around. After the first bite with a good dash of cayenne, I knew that I would not...
Add to my recipe book
Chicken and Spinach Tortilla Pie with a Roasted Tomatillo Salsa
By The Galley Gourmet
05/05/11 14:38
Whenever I make burritos, I am always left with one tortilla. Of course I could use it for an after school snack or a quesadilla, but when I came across this recipe inspiration, that leftover tortilla got a whole new meaning. I found this recipe in a Cook's...
Add to my recipe book