Very Good Recipes of Almond from The Gouda Life
There are 3 Almond recipes on the blog The Gouda Life. (204 on all the blogs)
Click on the title of a recipe or the photo of a dish to read the full recipe on its author's blog.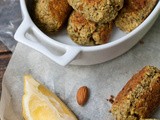 A Lack of Thought [Almond Mint Arugula Falafel with Lemony Avocado Buttermilk Dressing]
By The Gouda Life
04/05/13 16:28
I keep coming here with the intention to write a big long spiel about stuff and things and life… and then I get here and just stare at the page, pick at my cuticles, sigh heavily, and walk away. I'm not sure if it's a result of a busy few weeks or if I'm...
Add to my recipe book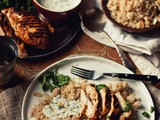 A Shift in Comfort [Chermoula Chicken with Toasted Almond Couscous & Coriander Yogurt]
By The Gouda Life
11/29/12 00:23
And just like that, winter came. And liked us so much it decided to stay for 4 long months. As the nipping air blows into town and we wrap our bones in layers over layers like flaky croissant dough around a piece of rich Swiss chocolate, I find myself feeling...
Add to my recipe book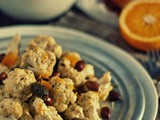 Me and My Salad [Cauliflower Salad with Almonds, Apricots & Fried Capers]
By The Gouda Life
11/21/12 01:30
As I shoved the last bite of this salad into my mouth the other day, I knew I would have to share it with you all. I'll make this short, sweet, salty and sour. It's become clear that I not only have an issue with baked eggs, but cauliflower too. I can't...
Add to my recipe book