Very Good Recipes of Squash from The Gouda Life
There are 3 Squash recipes on the blog The Gouda Life. (729 on all the blogs)
Click on the title of a recipe or the photo of a dish to read the full recipe on its author's blog.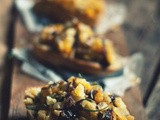 Vegetable Kaleidoscope [Caramelized Onion, Butternut Squash & Apple Toasts]
By The Gouda Life
10/05/12 16:39
Since my handsome Mr GL started Horticulture Industries, our apartment has been slowly filling up with precious little gem he's picked from the school garden. Huge red peppers so sweet they taste like they've been dipped in honey, red onions so potent your...
Add to my recipe book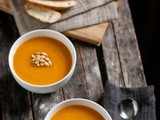 An Ode to Bread and Soup [Roasted Butternut Squash and Asian Pear Soup + No-Knead Bread]
By The Gouda Life
01/26/12 17:29
I love bread. I love the way a fresh loaf's crust shatters like glass when you pull a warm, doughy piece from it. I love it's comforting, alluring smell as it emerges from the oven, golden brown and imperfect. I love how unpretentious a rustic peasant loaf...
Add to my recipe book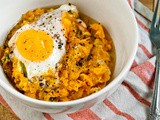 Penciling-In Inspiration [Smokey Summer Squash with Baked Eggs]
By The Gouda Life
08/23/11 17:40
I've been struggling to find inspiration lately. I'm not sure if I can blame being busy and not having as many opportunities to find myself grazing through the aisles of the market or hanging lazily over the pages of Food & Wine or if I'm just trying to...
Add to my recipe book