Very Good Recipes of Tomatoes from The Gouda Life
There are 3 Tomatoes recipes on the blog The Gouda Life. (568 on all the blogs)
Click on the title of a recipe or the photo of a dish to read the full recipe on its author's blog.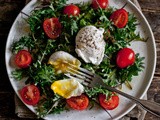 To Nourish and Satisfy [Breakfast Salad; Baby Kale, Flavorino Tomatoes, Poached Egg]
By The Gouda Life
03/19/12 15:54
Today is a quick post dedicated to breakfast. Simple, gratifying, nourishing breakfast. It's the first thing you put in your body each day, so it should be something your body can use. Something to fuel that big sexy brain of yours so you can come up with...
Add to my recipe book
The Sale of Kale [Kale and Quinoa Pilaf with Grape Tomatoes]
By The Gouda Life
04/29/11 02:00
My dad has taught me a lot of things.For instance; Sales are good. Sales in abundance - better. While this lesson is certainly valuable, my dear father had a bit of an obsessive sale problem. Upon finding 15 cans of beans in the cupboard, he'd simply look...
Add to my recipe book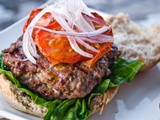 A First for Spring [Umami Burgers with Juicy Roasted Tomatoes]
By The Gouda Life
03/16/11 17:16
Can you smell that? It sort of smells like wet socks and dog doo. Which can only mean one thing. And if you crane your neck far enough around the corner, you might just be able to see Spring! Yesterday was the first taste of sunshine, longer days, and dry...
Add to my recipe book