Very Good Recipes of Ginger from The Harried Cook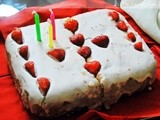 Guest Post: Mango, Orange and Ginger Tarte Tatin from Jill Colonna
By The Harried Cook
Subscribe
02/07/12 09:51
Today is my birthday! I have never been big on celebrating my birthdays. I love planning surprises for others, but hate being surprised myself. So year after year, I am extra cautious and even a little sneaky, and try to detect surprise plans so I can ruin...
Add to my recipe book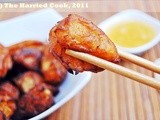 Pineapple Choux Fritters w/ Ginger Honey Dipping Sauce
By The Harried Cook
Subscribe
08/11/11 04:04
I love choux pastry. I've made my share of eclairs and profiteroles, but none since I started blogging. I should really get down to that soon. The other day, I felt like trying something new, and I came across 'Pineapple Choux Fritters'. It sounded very...
Add to my recipe book