Very Good Recipes of Pie from The Harried Cook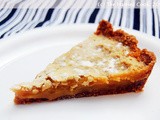 Christina Tosi's Crack Pie & Awards
By The Harried Cook
04/30/12 09:00
Have you missed me? It's been a while, but I am back (with an extra-long post). It has been a crazy few weeks, and I really thought that I might have to give up blogging somewhere in between. No hasty decisions were made, and for now, I am here to stay....
Add to my recipe book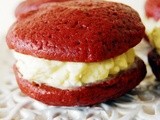 Red Velvet Whoopie Pies
By The Harried Cook
02/10/12 16:41
Day three of our Red Velvet Journey is here! I am thoroughly enjoying myself making and sharing with you these Red Velvet Treats. I hope you haven't missed the first two posts of this series - Red Velvet White Chocolate Chip Pancakes and Red Velvet Brownie...
Add to my recipe book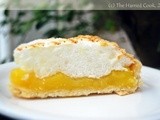 Lemon-Lime Meringue Pie
By The Harried Cook
01/30/12 03:36
One of the many exciting things for me about this new house we've moved into is our neighbor's lime tree. I shared this picture in this post about my new home, remember? At first, when I saw the limes just dropping into our yard, I tried my best to return...
Add to my recipe book