Very Good Recipes of Herb from The Hidden Pantry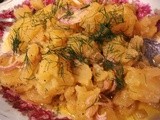 French Potato Salad with Fresh Herbs (No Mayonnaise)
By The Hidden Pantry
05/18/13 11:56
We had friends a lifetime ago of French heritage and she made lovely potato salads without mayonnaise using a bit of white wine and olive oil. Since then I periodically play around with the recipe. Today with fresh chive and dill in hand I made it again....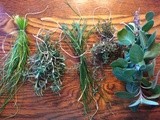 Ready for Winter in Indiana? Cutting the last herbs and hanging the bird feeders
By The Hidden Pantry
11/12/12 21:32
Onion Chives, Rosemary, Garlic Chives, Thyme, and Sage.I love the aroma of all kinds of lovely things, not the least of which are fresh herbs. When the first hard freeze is forecast as it is here for tonight I gather up the last of anything I haven't used,...