Very Good Recipes of Pancakes from The InTolerant Chef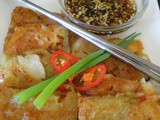 Korean Seafood Pancake- Haemul Pajeon
By The InTolerant Chef
Subscribe
02/28/15 05:54
Anyone who's a regular reader of my little blog will know that the InTolerant household has a deep love of Asian food Our love affair with Chinese Dim Sum or Yum Cha is well documented, and Thai, Indonesian and Vietnamese food is on our dinner menu probably...
Add to my recipe book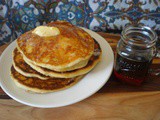 A Quick Fix Mix for Pancakes
By The InTolerant Chef
Subscribe
02/11/15 08:13
We all live such very busy lives nowadays I'm really very fussy about what I feed my family, and although I'll buy and grow as much real, fresh food as possible, I do tend to buy ready made snacks for work and school lunches We all need a little cheat now...
Add to my recipe book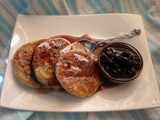 Beautilicious Blueberry Souffle Pancakes with Blueberry Compote
By The InTolerant Chef
Subscribe
06/05/11 00:21
Blues and purples are my favourite colour tones. So soothing, calm and pretty. My house is painted blue, my kitchen is blue, and all the flowers in my garden are the same, except for the odd splash of red for whimsy. Is it any wonder that from time to time...
Add to my recipe book