Very Good Recipes of Butter from The World in My Kitchen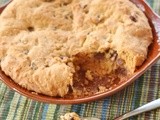 Coconut Peanut Butter Stuffed Deep Dish Chocolate Chip Cookies [Secret Recipe Club]
By The World in My Kitchen
03/19/12 17:00
So it's Secret Recipe Club time again! I have to say that after participating in this group for a few months, I've found that I really love it. Being assigned a random blog to cook from each month is quite exciting, and really makes me try new things. This...
Add to my recipe book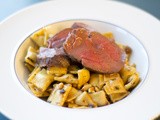 A Valentine's Day Feast: Brown Butter, Sage and Pine Nut Squash Ravioli with Beef Tenderloin
By The World in My Kitchen
02/15/12 20:39
If you've been following the blog on Facebook over the past few days, you'll have heard of my family's Valentine's Day tradition. It all started 10 years ago on my second date with my husband, which conveniently landed on Valentine's Day. He thought that...
Add to my recipe book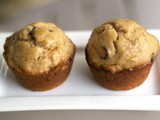 Peanut Butter Chocolate Chip Banana Muffins [Secret Recipe Club]
By The World in My Kitchen
09/26/11 13:00
This is my second month as part of the Secret Recipe Club, and I was lucky enough to draw Rebecca from A Dusting of Sugar. I thought last month's SRC pairing was perfect for me because of the international connection, but this month worked out great too!...
Add to my recipe book