Very Good Recipes of Southern from The World in My Kitchen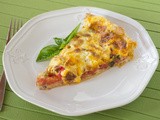 Southern Tomato Pie
By The World in My Kitchen
07/26/12 14:32
Last summer, I continually saw people posting about making tomato pies on Facebook. I had never heard of the tomato pie, but found quickly that it seemed to be a southern thing, and growing up in California wasn't conducive to being exposed to true southern...
Add to my recipe book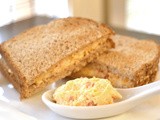 Pimento Cheese--a True Southern Delight
By The World in My Kitchen
08/15/11 17:39
Pimento cheese is one of those things that slipped under the radar until I moved to the South ten years ago. It's not to be found in California, and when I moved to North Carolina 10 years ago, I think I must have tried one in a hurry, prepackaged from...
Add to my recipe book