Very Good Recipes of Vinaigrette from The World in My Kitchen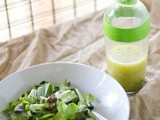 The Basics of a Vinaigrette and an oxo Salad Dressing Shaker Giveaway
By The World in My Kitchen
06/20/12 20:39
When I first moved to France, I realized that I was in trouble when it came to salads. Yes, the grocery stores and markets had great salad ingredients. Yes, salads were everywhere. But at the same time, bottled salad dressings in France were terrible. I...
Add to my recipe book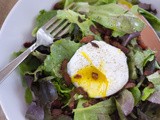 Green Salad with Poached Egg, Bacon and Champagne Vinegar and Walnut Oil Vinaigrette
By The World in My Kitchen
06/14/12 17:27
The idea of the French bistro is the epitome of delicious French food. Most people don't realize that bistro food is delicious because of its simplicity. Take beef bourgignon: basically a beef stew cooked in red wine. Or steak au poivre: just a good steak...
Add to my recipe book