Very Good Recipes of Zucchini from The World in My Kitchen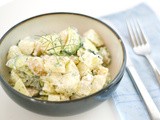 Potato and Zucchini Salad with Dill
By The World in My Kitchen
05/02/12 00:16
Last week while in Marksbury Farm Market, I saw some local zucchini begging me to buy it. Strange since I'm not zucchini's biggest fan. It must have known that I needed to branch out and continue trying it, and somehow it ended up in my shopping bag. When...
Add to my recipe book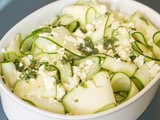 Zucchini Ribbon Salad with Feta and Oregano
By The World in My Kitchen
09/26/11 03:28
This is the time of year that my family and I dread: zucchini season. You'd think we were allergic to the stuff because none of us like it except for in baked goods. I get a ton of them in my CSA shares, and I hate for anything to go to waste, so I've been...
Add to my recipe book