Very Good Recipes of Red from themustardseed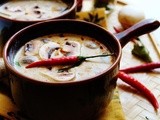 Spicy Thai Soup with Mushrooms, Tofu, and Red Chillies
By themustardseed
04/06/13 04:26
This is a wonderfully aromatic soup with fresh flavors. It can be totally customized to your liking by adding whatever vegetable or protein you like. I love mushrooms and so they are the star of the dish but once you have the base of the soup ready any...
Add to my recipe book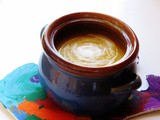 Red lentils and pumpkin soup
By themustardseed
11/28/11 04:19
I know I have been making a lot of soups lately. There are two reasons for it. One is that it is getting cold and I love having a hot bowl of soup after a hard days work and the other reason is that I find it easy to put it together as compared to making...
Add to my recipe book