Very Good Recipes of Black from Tips for Delicious and Healthy Cooking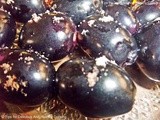 Salty And Spicy Black Plum
By Tips for Delicious and Healthy Cooking
Subscribe
06/24/14 20:05
Black Plum is a delicious tasty sweet and tangy fruit. Syzygium cumini is also known as jambul/jambhul/jambu/jambula/jamboola, Java plum,jamun, jaam/kalojaam, jamblang, jambolan, black plum, Damson plum, Duhat plum,Jambolan plum or Portuguese plum. Malabar...
Add to my recipe book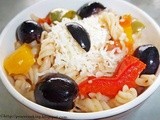 Pepper Pasta with Black Grapes
By Tips for Delicious and Healthy Cooking
Subscribe
06/17/12 18:38
Father and daughter always share a special bond. For a father her little girl is like a princess. Whoever she grows up to be, she is always to him that little girl in pigtails. Any man can be a father. It takes someone special to be a dad ……so true. I lost...
Add to my recipe book