Very Good Recipes of Bread rolls from Tips for Delicious and Healthy Cooking
Baked Beans and Shrimp stuffed Bread Rolls
By Tips for Delicious and Healthy Cooking
10/21/11 19:03
When festive season is over and still you don't came out from the hangover of all the fun what do you do..... I call few friends and arrange a snacks party. Good thing about this party is all of my friends bring their favorite snacks and with them I get...
Add to my recipe book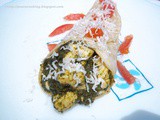 Flat Bread Rolls Stuffed With Tofu and Spinach
By Tips for Delicious and Healthy Cooking
07/27/11 20:08
Sometimes lazy bones like me want to stuff everything delicious in a bread and munch the whole lot with mouth wide open while watching a sizzling episode of "So you think you can dance" ……. Yes I think I can dance my heart out in my dreams and if someone...
Add to my recipe book