Very Good Recipes of Fruit from Tips for Delicious and Healthy Cooking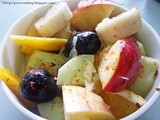 Fruit Salad With Sweet Lime Vinaigrette
By Tips for Delicious and Healthy Cooking
08/25/12 19:01
For last few days my indulgence towards some sinful delight was giving me a inner warning to return back to my healthy fresh diet so that I can happily flush out all the toxin that I stored inside. What could be better than afresh fruit salad but to make...
Add to my recipe book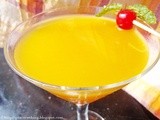 Fruit Punch
By Tips for Delicious and Healthy Cooking
07/16/12 14:37
I think that one punch which we all love to have is a delicious fruit punch. You get soothing healthy feeling and healing vibes feel your body especially in a hot summer evening. If you are in a hurry and suddenly came to know that you have to entertain...
Add to my recipe book