Very Good Recipes of Oil from Tips for Delicious and Healthy Cooking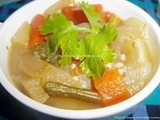 Zero Oil Vegetable Soup
By Tips for Delicious and Healthy Cooking
10/03/13 18:07
Zero oil vegetable soup is a very delicious and healthy soup. Good for the weight watcher and heart healthy too. You can take and mix any vegetable of your choice. I just suggest few which I like.One caution while choosing the vegetables if you are pregnant...
Add to my recipe book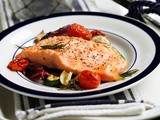 Broiled Trout with Lemon Oil & Oven-Grilled Vegetables
By Tips for Delicious and Healthy Cooking
05/13/11 22:41
Photo credit goes to CanolaInfo It's summer and carving for fresh and healthy food is more than ever, on the top of the list is fish. When we cook fish in summer , we like to keep it simple. The flavorful recipe which I am sharing with you today is a nutritional...
Add to my recipe book