Very Good Recipes of Omelette from Tips for Delicious and Healthy Cooking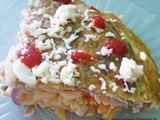 Pasta Omelette
By Tips for Delicious and Healthy Cooking
08/16/12 07:46
For past few days due to some tight work schedule I need to make some quick yet filling lunch. So other day I cook this pasta omellete, this is awesomely delicious and you can add any vegetable, fish, seafood, meat of your choice and make it within minutes...
Add to my recipe book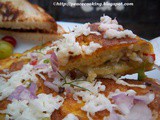 Delicious Western Omelette for Mother's Day
By Tips for Delicious and Healthy Cooking
05/08/11 15:08
Wish You all A Very Happy Mother's Day. The first thing that come to mind when I talk about Mother's is- "A mother is the truest friend we have, when trials heavy and sudden, fall upon us; when adversity takes the place of prosperity; when friends who rejoice...
Add to my recipe book