Very Good Recipes of Sandwich from Tips for Delicious and Healthy Cooking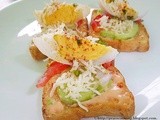 Crispy Egg Sandwich
By Tips for Delicious and Healthy Cooking
06/29/12 09:15
Eggs as we all know contain very high quality protein and nine very essential amino acids. Other than this recently I came across few very important health benefits of eggs. Previously it was believed that eggs have a very negative impact on cholesterol...
Add to my recipe book
Open Faced Sandwich With Pickled Sprouts
By Tips for Delicious and Healthy Cooking
07/20/11 19:05
My Granny always told us that fenugreek seed is very good for health and other day she send some pickled fenugreek seed sprouts. First I was bit surprised to see a small bottle of pickled sprouts and thinking what to do with it because it taste little bitter....
Add to my recipe book