Very Good Recipes of Salad from Triumph Of The Lentil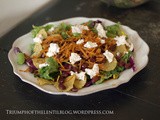 Nacho Salad
By Triumph Of The Lentil
01/21/13 12:49
I like to eat salads for meals every now and again, typically if they have plenty of protein, fat and some carbs to make it more filling. This is a salad which has all of these things, but according to my other half it shouldn't be called a salad, just...
Add to my recipe book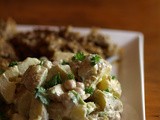 Chickpea and Potato Salad (and homemade cashew mayonnaise)
By Triumph Of The Lentil
11/08/11 10:54
With the approach of summer here in Tasmania it's nice to have some filling meals that can be made ahead of time and served for a quick lunch, or as part of a picnic or BBQ. This salad can be served straight away at room temperature, or kept in the fridge...
Add to my recipe book