Very Good Recipes of Stew from Vanevalentine FOOD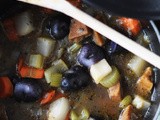 Seitan & Vitelotte Veggie Stew – Meatless Monday Recipe
By Vanevalentine FOOD
Subscribe
02/24/14 21:32
I'll start this post similarly to my previous one: by listing the sources of inspiration for today's Meatless Monday recipe:... Continue reading » The post Seitan & Vitelotte Veggie Stew – Meatless Monday Recipe appeared first on vanevalentine FOOD.
Add to my recipe book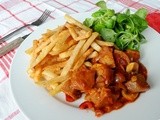 Summery Seitan Stew to accompany your Belgian Fries
By Vanevalentine FOOD
Subscribe
07/19/12 18:48
Hey, food lovers!!! I'm so excited about sharing this post In a couple of days, Belgium is gonna be celebrating a very special national holiday. On the 21st of July, 1831, Leopold swore allegiance to the Belgian Constitution, becoming the first Belgian...
Add to my recipe book