Very Good Recipes of Yogurt from wabi
There are 2 Yogurt recipes on the blog wabi. (940 on all the blogs)
Click on the title of a recipe or the photo of a dish to read the full recipe on its author's blog.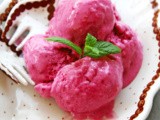 Greek frozen yogurt with rasberries - Παγωμένο γιαούρτι με σμέουρα
By wabi
09/28/12 17:52
Ενδιάμεσα από δουλεία , αρρώστιες του μικρού (ξεκίνησε βρεφονηπιακό βλέπετε) και υποχρεώσεις βρήκα ευκαιρία να φτιάξω μια εκδοχή από την καινούργια μόδα που λέγεται frozen yogurt . Εγώ το έκανα με σμέουρα και μέλι για ντελικάτο και υγιεινό δροσιστικό επιδόρπιο....
Add to my recipe book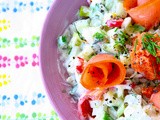 Salmon salad with celery and yogurt - Σάλατα με σολομό σέλερυ και γιαούρτι
By wabi
02/18/12 21:02
When we are about to go for dinner out, we prefer something light for lunch such as a soup or a pie or even a rich salad. TodayI made such a tasty salad that smells summer right in the middle of the winter. Όταν πρόκειται να φάμε το βράδυ προτιμάμε για...
Add to my recipe book