Very Good Recipes of Red from We don't eat anything with a face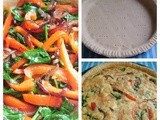 Spinach, Red Pepper and Goat's Cheese Quiche
By We don't eat anything with a face
09/20/12 17:37
The name of this recipe has given me a headache, as I'm a bit of a stickler for apostrophes being in the right place. Should I use goat's cheese, goats' cheese or just plain old goats cheese in this quiche? I came to the conclusion that goats' cheese was...
Add to my recipe book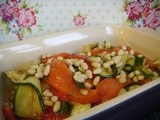 Red Pepper & Courgette Salad (vegan)
By We don't eat anything with a face
06/08/12 20:32
© This simple pepper and courgette salad is packed full of fresh basil, which gives it a really summery taste. It works well served with barbecued foods and can even be used as a panini filling or served over pasta. 1 large courgette (zucchini), thinly...
Add to my recipe book