Very Good Recipes of Soup from What's Left to Eat? Life With Allergies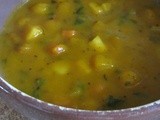 Butternut Squash Soup
By What's Left to Eat? Life With Allergies
02/10/12 20:48
This soup is one of my favorites at least since I haven't been able to make cheesy broccoli potato soup. I really miss cheese, I came across a rice cheese recently however it had a dairy casein, hopefully I will find an alternative soon. Luckily one day...
Add to my recipe book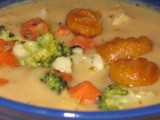 Sweet Potato Pumpkin Gnocchi Soup
By What's Left to Eat? Life With Allergies
01/14/12 23:50
A nice sweet and spicy combination of flavors! Ingredients for soup and vegetables: 3 Med Organic Sweet Potatoes (Peeled and quartered for faster baking) 32 Fl Oz Chicken Stock (Kitchen Basic's Unsalted brand) 1/4 of an onion diced 1/2 cup Broccoli 1/2...
Add to my recipe book