Very Good Recipes of Soup from Wishing for Saturday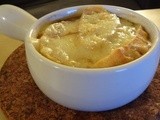 French Onion Soup
By Wishing for Saturday
03/25/12 04:44
Spring seems to be trying its best to poke its little head out from behind the grey skies of winter, but so far with little luck. So, I am using these last cold days as an excuse to make my favourite French onion soup recipe. This one is not my own, and...
Add to my recipe book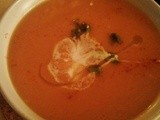 Winter Vegetable Soup
By Wishing for Saturday
03/17/12 02:39
Squash Soup My favourite winter soup. Freezes well and easy to playaround with the flavour. This is the basic list of ingredients, but I like to adsweet potatoes, pears, carrots (basically any fall veg plus pears) I also liketo add a dollop of yogurt, a...
Add to my recipe book