Very Good Recipes of Roasted from Youtoocancookindianfoodrecipes
Porikadalai Urundai | Pottukadalai Ladoo | Roasted Gram Ladoo | Maladoo | Maa Ladoo
By Youtoocancookindianfoodrecipes
01/11/14 12:41
Roasted gram (Pottukadalai or porikadalai) ladoo is my most favorite among ladoos, it is such a simple recipe and I have been following the same from my childhood. Whenever I get a sweet tooth and feel like munching on a home-made snack, I opt for this...
Add to my recipe book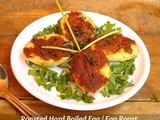 Roasted Hard Boiled Egg / Egg Roast
By Youtoocancookindianfoodrecipes
09/26/12 21:33
Roasted hard boiled egg, is a tasty side-dish that can be made in a few minutes without taking too much of effort. It goes well as sides with rasam rice, sambar and dal. In my version I have used gram flour to make masala adhere well to the eggs and also...
Add to my recipe book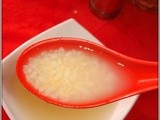 Arisi Kanji / Roasted Rice Porridge
By Youtoocancookindianfoodrecipes
06/04/12 12:11
Roasted rice Porridge/Arisi Kanji, a simple porridge with no seasoning or spicing, is usually prepared to give instant energy. My mom used to prepare this whenever someone suffered from sickness and it would help to gain a lot of strength. For the past...
Add to my recipe book