Very Good Recipes of Tagliatelles from Zibaldone culinario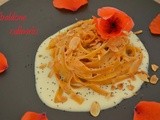 Tagliatelle ai peperoni con crema di Parmigiano Reggiano
By Zibaldone culinario
06/11/14 07:00
Da buon emiliana le tagliatelle in casa mia non mancano mai. Non sempre purtroppo sono fatte a mano, a volte sono acquistate, a volte preparate velocemente con la macchinetta, altre tirando la sfoglia con il mattarello, proprio come si deve. Quest'ultima...
Add to my recipe book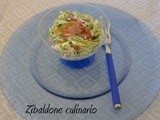 Tagliatelle verdi in coppa con speck e bagoss
By Zibaldone culinario
08/29/12 21:50
I primi piatti sono sempre molto graditi, sarà che siamo italiani..... quando un pranzo inizia con un buon primo piatto, si è già a metà dell'opera....ci si è conquistati gli ospiti! E' quello che fatto, qualche sera fa, in occasione di una cena tra amici,...
Add to my recipe book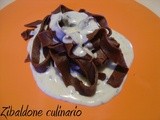 Tagliatelle al cacao e Blue Stilton
By Zibaldone culinario
01/22/12 09:30
E anche questo mese eccoci pronti a partecipare all'MT-Challenge...la voglia di ricominciare era tanta, la sospensione del mese di dicembre l'abbiamo sentita...ci mancava qualcosa... Questo mese l'Ale del blog Ale only kitchen ci ha messo alla prova con...
Add to my recipe book