Very Good Recipes of Chip from ... and then, I ate it!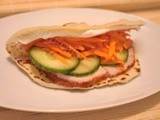 Bbq Chip Roasted Pork in a Fresh Tortilla
By ... and then, I ate it!
12/13/11 16:32
Oh my good-ness! Oh my good-ness! Dinner in a tortilla! Veggies and all! Thinly sliced BBQ chip pork, sliced cucumber, shredded carrot slathered with cooling sour cream on stuffed in your homemade soft fresh tortilla. Now please understand that I would...
Add to my recipe book
Bbq Chip Pork Roast
By ... and then, I ate it!
12/12/11 16:42
Drooling yet? Yah, you read that right! A pork roast that is coated and baked with BBQ Chip seasoning!! It's super simple to make. A quick mix of everyday spices and you have the beginnings of a zesty porky meal. How simple is it to make? Mostly what you...
Add to my recipe book