Very Good Recipes of Fried from ... and then, I ate it!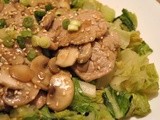 Sesame Stir Fried Pork on Romaine
By ... and then, I ate it!
04/19/12 16:40
On Romaine? Fried lettuce? You Bet! I've been frying my lettuce for years and often substitute it for sprouts when they are not available. But do yourself a favour by not over frying it. You want it slightly wilted yet still crunchy. Also please cook it...
Add to my recipe book
Bacon and Egg Fried Rice
By ... and then, I ate it!
12/05/11 02:17
Hello Breakfast! All the wonderful flavours of breakfast stir fried into a bowl rice! What more could anyone ask for? Uh ... Extra BACON!!! I've made this dish many, many times and am still amazed at how truly delicious it is. In fact it's as yummy as it...
Add to my recipe book