Very Good Recipes of Parmesan from Does Not Cook Well With Others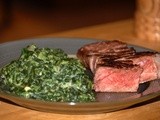 Steak with Parmesan Spinach
By Does Not Cook Well With Others
05/10/12 14:00
This dinner was a team effort. I've never been comfortable cooking steak. Probably because past efforts have resulted in overcooked steak, and therefore I'm loathe to "practice." Steak isn't exactly cheap (is anything these days?), and I'm scared to potentially...
Add to my recipe book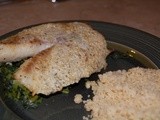 Parmesan Tilapia
By Does Not Cook Well With Others
02/24/12 02:00
Whenever we do a recipe swap, I look at the other recipes that were swapped, and bookmark the ones that I'm interested in trying later. From the fish swap in September 2011, I bookmarked Parmesan Tilapia. It sounded quick and easy, and used ingredients...
Add to my recipe book