Very Good Recipes of Salsa from eat-tori
There are 3 Salsa recipes on the blog eat-tori. (753 on all the blogs)
Click on the title of a recipe or the photo of a dish to read the full recipe on its author's blog.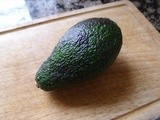 Avocado Mint Salsa with Pea and Mozzarella Quesadillas
By eat-tori
02/21/13 16:53
There's so much promise in an avocado. So much hope, so much unknown. It's the ultimate fruit for the family of 'cut it and see'. For as much as the crest gently exhales under pressure, and the outside look unblemished, the interior truth remains a mystery...
Add to my recipe book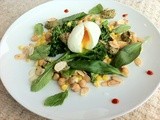 A good egg, greens and and a salsa with a kick
By eat-tori
09/28/11 11:50
This is about my need for green. The last few weeks have included some capital 'I' indulgences. So when my body starts muttering about broccoli, I have the sense to know it's time to listen. The muttering comes from the voice of reason inside. It has its...
Add to my recipe book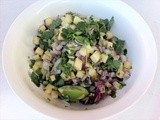 Pineapple jalapeno salsa (an ode to Avoca Beach)
By eat-tori
09/19/11 08:29
Just as there are sounds that can whisk you to memories, there are tastes that take me straight to a place. This salsa is one of them. I rarely make it when I'm not at Avoca Beach, an hour and a half north of Sydney- because the tang and burn that I'm not...
Add to my recipe book