Very Good Recipes of Fennel from fab · food · blog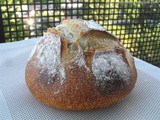 Hoegaarden white beer, fennel seeds and rosemary sourdough bread
By fab · food · blog
06/27/11 09:20
Living in Belgium means being spoiled for choice when it comes to beer: about 800 varieties can be found. I confess that I don't drink beer very often although I do appreciate the wide range of flavours. In summer however, I sometimes enjoy a glass of Hoegaarden...
Add to my recipe book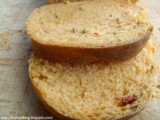 Bread with dried wild fennel flowers, oregano, slow-roasted tomatoes and red pepper paste
By fab · food · blog
04/02/11 23:11
This is a colorful, intense-tasting, savoury variation of a standard white loaf. To be quite honest, when I made this bread I did not measure anything but quickly threw everything together. It's fine of course – and also even enjoyable – to be a purist...
Add to my recipe book