Very Good Recipes of White from fab · food · blog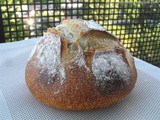 Hoegaarden white beer, fennel seeds and rosemary sourdough bread
By fab · food · blog
06/27/11 09:20
Living in Belgium means being spoiled for choice when it comes to beer: about 800 varieties can be found. I confess that I don't drink beer very often although I do appreciate the wide range of flavours. In summer however, I sometimes enjoy a glass of Hoegaarden...
Add to my recipe book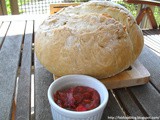 White
By fab · food · blog
04/02/11 19:16
I really like using the poolish method for bread-making. It works great for baguettes but also for bread loaves. The bread has a rather soft texture and keeps very well for about two days. Here I have gone for a whiter-looking crust. White bread with poolish...
Add to my recipe book