Very Good Recipes of Roots from Inside a British Mum's Kitchen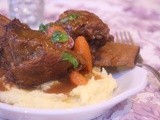 Braised Beef Short Ribs with Root Vegetable Mash
By Inside a British Mum's Kitchen
01/06/13 15:36
These are a treat. Since I have been confided to the house with a pulverized ankle my cooking style has entirely changed. I used to be in a tearing hurry ALL the time, no time to simmer or slow cook. Now there's all day to simmer and slow cook and the results...
Add to my recipe book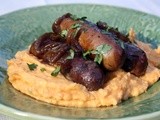 Braised Sausages in Red Wine and Juniper Berry Gravy and Root Vegetable Mash
By Inside a British Mum's Kitchen
02/09/12 01:51
"Bangers and Mash" must be one of the best known British dishes and for good reason. This is perfect cold, wet weather food! It warms and nourishes and will fill you up for the day. Braising the sausages in a rich sauce takes this powerhouse meal to another...
Add to my recipe book