Very Good Recipes of Shells from Inside a British Mum's Kitchen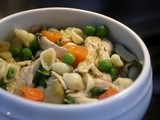 Chicken Soup with Vegetables and Mini Pasta Shells
By Inside a British Mum's Kitchen
Subscribe
01/08/13 19:01
In my current craze of slow roasting, yesterday I decided to slow roast a chicken. I placed it in a roasting pan, poured a cup or so of water around it, added herbs, a cut up lemon, juniper berries, salt, pepper and cumin, covered it with aluminum foil...
Add to my recipe book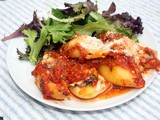 Stuffed pasta shells on a wet and miserable night
By Inside a British Mum's Kitchen
Subscribe
05/29/11 04:23
It was a very wet, miserable night, I was a woman without a plan, everyone was hungry. I was tempted to dial for pizza, I wondered if the number was still on speed dial, but then the 13 year old spied the jumbo pasta shells. They were empty of course and...
Add to my recipe book