Very Good Recipes of Raw from Jagruti's Cooking Odyssey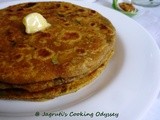 Raw Banana and Oats Paratha ( Pan fried Indian bread )
By Jagruti's Cooking Odyssey
07/08/12 20:33
Made n Enjoyed Hello readers, Spicy parathas are the epitome of the Indian cuisine.. enjoyed particularly by Gujarati's and Punjabi's. In my family we enjoy all types of parathas and one of the joys of cooking them is that you can experiment with fillings...
Add to my recipe book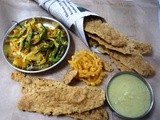 Fafda, Chutney kadhi ane Kacha papya no sambharo - Chickpea crisps,Spicy Chutney and Raw pappaya stirfry
By Jagruti's Cooking Odyssey
06/04/12 19:00
Made n Enjoyed Hello readers, I want to jump out of the train......yes, don't stop me, please don't stop me !!!! I can bet you these thoughts will come in your mind if you are travelling on a train and your train is going to pass or stop at Ahmedabad station...
Add to my recipe book