Very Good Recipes of Raisin from Life, dreams and cupcakes.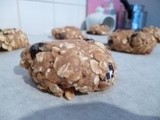 Baked by me - Oatmeal and Raisin Cookies
By Life, dreams and cupcakes.
05/31/12 09:00
It's been a tough couple of weeks for me, so I have been spending a lot of time in my kitchen. I have about 12 blog posts waiting to be written, that is how much time I have spent baking recently! What can I say? It's therapeutic! Thankfully for my waistline...
Add to my recipe book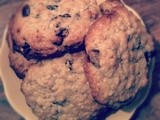 Awesome Choc 'n' Raisin Oaty Biscuits
By Life, dreams and cupcakes.
05/16/12 09:00
I don't know if I mentioned it but... I started a new job two weeks ago, it has been pretty exciting so far and I am SO much happier than I have been for the past few years. It is amazing how feeling valued and part of a team boosts your work performance,...
Add to my recipe book