Very Good Recipes of Icing from Lottie's world of cakes and bakes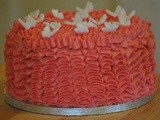 Nicola's Birthday Cake: Triple Layer Chocolate Cake with Ruffled Pink Icing
By Lottie's world of cakes and bakes
02/25/12 12:36
In this blog I would like to introduce another Wilton nozzle that I love. This one is a petal nozzle, Wilton 104. It is great for doing the ruffle icing like I have done on this cake, but also for decorating cupcakes with roses (a blog post on this icing...
Add to my recipe book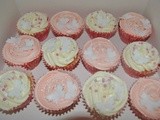 Pretty Butterfly Vanilla Cupcakes with Cream Cheese Vanilla Icing
By Lottie's world of cakes and bakes
11/29/11 22:17
So, I just couldn't wait, I had to test out my new piping nozzle straight away! And I love it! I felt like making something pretty to take round to a friend's house and thought some pretty butterfly cakes to match my butterfly blog would be perfect! And...
Add to my recipe book