Very Good Recipes of Corn from Knife Fork and Chew
Slow Cooked Chicken & Corn Noodle Soup
By Knife Fork and Chew
06/03/14 23:50
Most people make their chicken and corn soup out of chicken drums or thighs. Well I only had breast in the freezer so I used breast as a bit of a test and I must say, I'm impressed. As some of you new via Facebook - I recently had to replace my slow cooker....
Add to my recipe book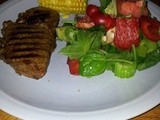 Bbq Steak With Buttery Corn and Christmas Salad
By Knife Fork and Chew
12/13/12 03:21
The fastest way to get some iron into you is to BBQ a steak. There is nothing like the flavour of BBQ'd steak - no marinade - just plain BBQ flavour. I love T-Bones but this week my second favourite meat, Rump Steak, was on special so I bought a kilo. Rump...
Add to my recipe book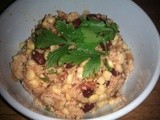 Cous Cous, bean and corn salad
By Knife Fork and Chew
03/30/12 07:29
This is very fast and easy...a great last minute, low-fat Vegetarian lunch idea. This serves 2 for lunch, or 4 as a side to accompany a main meal. Ingredients: 1 cup cous cous (I used cous cous in a box which you just add boiled water to and let set for...
Add to my recipe book