Very Good Recipes of Sauce from Knife Fork and Chew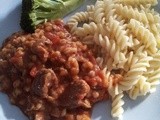 Slow cooked beef with barley and tomato sauce
By Knife Fork and Chew
12/07/12 00:36
I came up with this recipe when I discovered some chuck steak in the freezer and barley in the pantry which was nearing it's best by date. This is a tasty, warm and nourishing meal and lovely served with pasta and vegetables. It serves 5, but if you wanted...
Add to my recipe book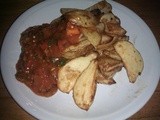 Home-made chips and sauce
By Knife Fork and Chew
03/27/12 03:56
When I crave hot chips I reach for the pantry, salt & pepper. Home-made chips are so easy and much healthier than fried and frozen chips. In most cases the frozen chips you buy at the supermarket have already been fried before freezing so the fat content...
Add to my recipe book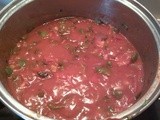 Home-made Tomato Sauce
By Knife Fork and Chew
01/25/12 04:45
Hubby went shopping at a farmer's market for me and came home with a kilo of tomatoes. Because they were very ripe, I decided to make a tomato sauce for tonight's pasta. It's easy, tasty, low-fat and very healthy. Ingredients: 1 kilo of very red ripe tomatoes,...
Add to my recipe book