Very Good Recipes of Stuffed from SpiceuptheCurry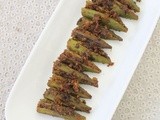 Bharli Bhendi Recipe | Maharashtrian style stuffed bhindi recipe
By SpiceuptheCurry
06/04/14 03:15
Preparation: 20 min - Cooking: 20 min Bharli bhendi chi bhaji recipe is another delicious recipe of okra. This name may confuse you as it is in marathi language. If you translate it word by word, bharli=stuffed, bhendi=okra, chi=apostrophe s ('s) and bhaji=subzi (dry vegetable preparation)....
Add to my recipe book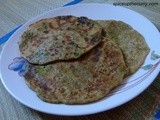 Green Peas Paratha (Mutter Paratha) (Stuffed)
By SpiceuptheCurry
05/19/12 17:44
Green peas paratha is very delicious and filling breakfast. It can be eaten with pickles, raitas or plain yogurt. My husband likes these parathas with a cup of hot tea. The filling of these parathas is very flavorful. So let's see how to make them. If you...
Add to my recipe book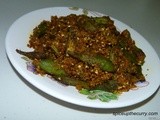 Stuffed Okra (Bharwan Bhindi)
By SpiceuptheCurry
02/23/12 17:44
Okra or bhindi or ladies finger is a common vegetable in India. When you buy okra keep in mind that they should be long, fresh looking and dark green in color. Don't buy those who have blemishes, cut or leaked internal juice. Try to buy those who have less...
Add to my recipe book