Very Good Recipes of Peanut from 365 Days of Baking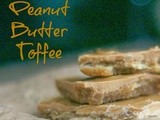 Peanut Butter Toffee
By 365 Days of Baking
02/14/14 03:50
Peanut Butter Toffee - saltine crackers topped with a melted butter and dark brown sugar mixture and topped with peanut butter chips. I'm not feeling very well. I've got the flu - achy, feverish, coughing and just all around miserable. But I baked! I'm...
Add to my recipe book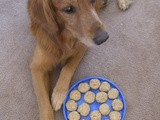 Secret Recipe Club - Peanut Butter & Oatmeal Dog Biscuits
By 365 Days of Baking
06/17/13 06:00
It's the third Monday of the month and it's time for (drumroll, Maestro, please)... I cannot believe how very quickly the weeks fly by in between the reveal dates for the Secret Recipe Club!!! This incredible club is lead by April of Angels Homestead and...
Add to my recipe book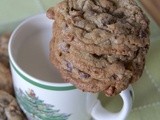 Day 5 of the 12 Days of Cookies - Chocolate Chip Caramel Peanut Butter Pretzel Cookies
By 365 Days of Baking
12/04/12 21:21
*DISCLAIMER - I take NO responsibility for any needed dental work that may occur after biting into one of these cookies. After they've sat out for a little while, the caramel will tend to harden. While laying in bed thinking about hardened cookies, I had...
Add to my recipe book